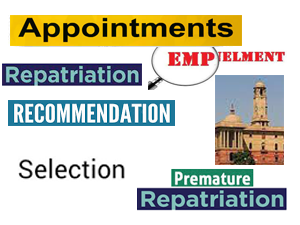 New Delhi (16.05.2023): Notifications of appointments and recommendations issued on Tuesday are as follows:-

Ravneet Kaur (IAS: 1988: PB) was appointed as Chairperson of Competition Commission of India (CCI) for a tenure of five years or till she reaches the age of 65.

Tenure of Saket Kumar (IAS: 2009: BH) as Private Secretary to Union Home Minister Amit Shah was extended for the period of two years i.e. upto 16.08.2025.

The Deputy Secretary level post in the Ministry of Tourism presently held by Roshan M Thomas (IDAS:2009) was as Director, as a measure personal to him, for a period up to 14.06.2027 i.e. total tenure of five years under the Central Staffing Scheme. Ms Richa Sharma (IOFS:2002) was appointment as Director in the Ministry of Labour & Employment for a period of five years.