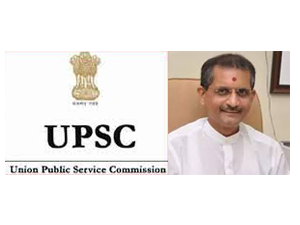 New Delhi (16.05.2023): UPSC member Manoj Soni, who has been performing duties of the Union Public Service Commission (UPSC) chairman since April 5, 2022, on Tuesday took oath as the chairman of the UPSC. Soni joined the Commission as member on June 28, 2017 and prior to this served three terms as Vice-Chancellor.

He was administered the oath of office and secrecy as chairman, UPSC by Mrs Smita Nagaraj (IAS:1984:TN), senior most member in the Commission. The UPSC conducts civil services examination to select officers of Indian Administrative Service (IAS), Indian Foreign Service (IFS) and Indian Police Service (IPS) among others.
The Commission is headed by a chairman and it can have a maximum of 10 members. Following the appointment of Mrs Suman Sharma (IRS IT:1990) this week, effectively five vacancies of Member post still remain in UPSC. It may be underlined that Mrs M Sathiyavathy (Retd IAS:1982:UT) completed her tenure as Member on May 12, 2023.