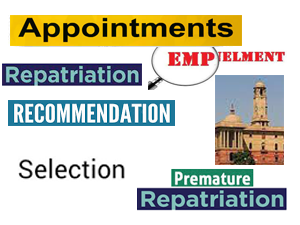 New Delhi (05.12.2022): Notifications of appointments and recommendations issued on Monday are as follows:

Abhinav Pratap Singh (lPoS:2011) was appointed as Private Secretary to the Minister for Civil Aviation & Steel (Jyotiraditya M Scindia) in the Ministry of Civil Aviation for a period of five years or on a co-terminus basis with the Minister.
PESB selected/recommended Srikumar Ghose Choudhury (AGM, GRSE) for the post of Director (Finance), Bengal Chemicals & Pharmaceuticals Ltd (BCPL).
The Central Deputation of Ajay Yadav (IAS:2005:BH), Joint Secretary, Ministry of New & Renewable Energy, was extended for a term upto 18.10.2024.