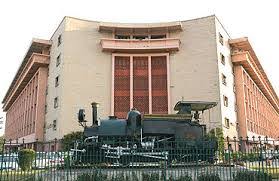 New Delhi (28.06.2022): For the first time, the Railway Board has invited applications for GM empanelment for which today, June 28 is the last day for submitting applications. The empanelment list will take care of 13 vacant posts of GM this time. 5 officers from the 1983-1984 batch and the rest from the 1985 & 1986 batch are in the ring.
Applications are required to contain, in an essay style, a self-assessment of the applicants about their achievements in the last five years and their future five-year vision for the railways. The self-assessment reports will be evaluated by an expert committee comprising retired railway officials.
In addition, commonly practiced in the private sector EQ test has also made entry into the railway's new empanelment practice. For the first time, the Railway Board has introduced an online EQ Test for GM Empanelment which is reportedly, being extended for selecting Divisional Railway Manager (DRM) also in the coming days. A section of Railways officials says that the EQ test has already been conducted on approx 400 officials for the empanelment as GM & DRM.
Few insiders though murmur whether the introduction of EQ Tests had DOPT's prior approval or not; the contentious issue (between DOPT & Railways) appears sorted out now.
It is pointed out that this is the first time when the empanelment is subjected to applications from eligible candidates. Further, EQ test having been accepted for Railways, one wonders if empanelment by application coupled with EQ Test could be extended to IAS, and IPS officers also.
Under the extant system, procedures for empanelment of All India Service officers and Central Services officers are initiated by the cadre controlling authority itself suo motu. Until now, the Railway Board also followed the same practice but for the first time, it has invited applications from officers from four batches (1983-1986) for their empanelment for holding GM and DRM level posts.
These new procedures introduced for empanelment for GM & DRM empanelment are seen as a leap towards strengthening newly introduced IRMS and have also made All India Service officers (IAS, IPS, IFS) curious if the same may be applied, sooner or later, to their empanelment as well.
(By Rakesh Ranjan)