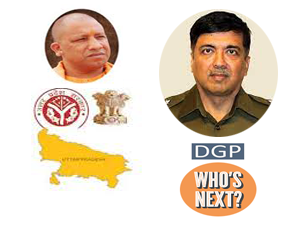 Lucknow (12.05.2022): Taking a U-turn on its own previous decision the Yogi Adityanath Government on Wednesday removed the state police chief Mukul Goel (IPS: 1987: UP) Wednesday late evening. He has been made the Director General (DG) of the Civil Defence department.
Prashant Kumar (IPS:1990:UP) has been assigned the additional charge of state DGP.
The government in its notification categorically said that Goel was removed from the post of DGP for neglecting official work and not taking interest in departmental work.
Following the development, prospective names for the next DGP have started doing rounds. Reportedly, five IPS officers are seen as claimants; Rajendra Pal Singh (IPS:1987:UP), Gopal Lal Meena (IPS:1987:UP), Raj Kumar Vishwakarma (IPS:1988:UP), Devendra Singh Chauhan (IPS:1988:UP) and Anand Kumar (IPS:1988:UP). The state government will now send a panel of officers, based on seniority, to UPSC which will shortlist three names for the state govt to pick and appoint as next state DGP.