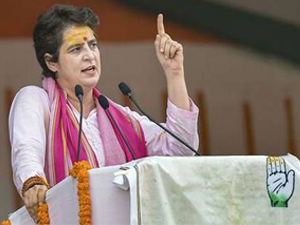 New Delhi (10.01.2022): Congress general secretary Priyanka Gandhi has reached out to each household in Uttar Pradesh through her slogan "Ladki hun lad sakti hun". She adopted a strategic narrative to impress upon half of the population through this impressive slogan. Now it is high time to show that she is firm on her commitment.

Sources said that the Congress screening committee for UP is ready with the first list of candidates. The first list has forty percent women candidates. This is bound to hit the political landscape when a huge number of women will join the political fray in the poll-bound state.
The Samajwadi Party is also trying hard to manage the social equation by wooing Brahmins and other caste groups. BJP has huge resources as well as the party's cadre base. But Priyanka's poll strategy with forty percent women candidates is likely to become a debatable issue. Whether the party will reap the harvest in the assembly poll or the next Lok Sabha poll in 2024 is another issue. As of now, the first list of Congress candidates is expected soon.