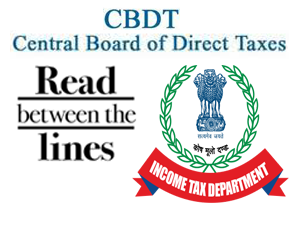 New Delhi (07.10.2021): The change of hands at the post of CBDT Member (investigation) three times in 120 days has not only brought avoidable attention to the post but has also set off a chain of speculations and made officials wonder whether there were some serious considerations in the earlier decision-making process that was sought to be formalized by subsequent decisions.

On September 28, in a fresh work allocation among CBDT Members, Nitin Gupta was placed in regular charge of Member (Investigation), thus overruling the earlier notification of 22 September that loaded CBDT Chairman Jagannath Bidyadhar Mohapatra with the additional responsibility of Investigation.
It may be recalled that an earlier ACC notification dated 03 June 2021 had made Mohapatra ad-hoc Chairman (additional charge) of CBDT in addition to the regular charge of Member (Investigations) - making him the first regular Member for Investigation after Gopal Mukherjee's retirement in Feb 2019.
But, in the course of the last 120 days, the government has finally come to conclude that Nitin Gupta is 'best suited' to the job of Member (Investigation). Was it such a big deal to pick him up in the first round itself?
It is pointed out that the NDA administration, for reasons best known to its top bosses, has always been hypersensitive in the appointment of CBDT members and other officials in comparison to the CBIC.
A timeline comparison shows that while the government took five days to notify the work-allocation after the appointment of new CBIC members on September 3, it took 27 days to allocate the portfolio among CBDT members. since new CBDT members were picked up on August 25.
What drew the attention of officials and corporate leaders was the fact that that CBDT witnessed the portfolio allocation in quick succession first on 22.09.2021 and another on 28.09.2021 though it was first notified on 04.09.2021.
Although officials clarify that Nitin Gupta isn't likely to be shifted any time soon and he may continue as Member (Investigation) till he retires, doubts persist and may go only with the passage of time.
(By Rakesh Ranjan)