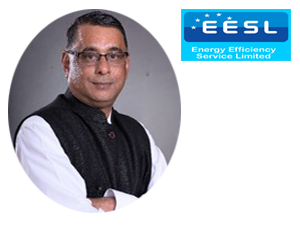 Over a month ahead of the completion of the extended contract of Saurabh Kumar as MD of Energy Efficiency Services Ltd (EESL) the Board comprising NTPC, PFC, REC, PCGIL has extended his tenure for another three months. His tenure was scheduled to expire on May 31, 2020. Going by the industry rumours Kumar was not keen on having another extension in tenure. Also, contrary to the rumours he had earlier rubbished the rumours of his resignation or moving to EESL's subsidiary in London.
Saurabh Kumar took over as MD in May 2013 when its revenue was about Rs 16 crore per annum. The company's annual revenue at present is said to be about Rs 2,660 crore.
After he spearheaded the world's largest non-subsidised distribution programme of LED lamps under the 'Unnat Jyoti by Affordable LEDs and Appliances for All' (Ujala) scheme he became the face of energy efficiency programmes. It may be underlined that EESL had lowered the price of LED lamps — from Rs 310 per piece to Rs 40 per piece through competitive bidding — based bulk purchase.
The Ujala dashboard showed that more than 36 crore LED lamps were sold under the scheme. The company also implemented programmes for LED street lighting, smart metre procurement, energy-efficient fans and air conditioners, solar irrigation pumps and electric cars.
ALSO READ: