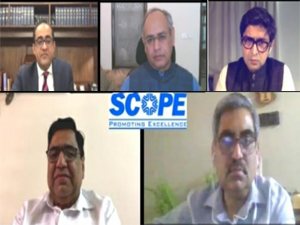 Standing Conference of Public Enterprises (SCOPE), organized 7th webinar series 2020 on "Issues in Arbitration and Future of Virtual Hearings". The webinar deliberated upon critical issues of arbitration arising in PSEs and how the disruptions due to COVID-19 are being converted as opportunities to explore technological and digital means to conduct hearings.

Justice Vibhu Bakhru, Judge Gaurav Pachnanda, Delhi High Court, Senior Advocate Shourav Lahiri, Supreme Court of India and Barrister-at-law, London, addressed the webinar including Atul Sobti, Director General, SCOPE gave the opening remarks and Anuj Aggarwal, Member (HR), Airport Authority of India gave the closing remarks.
Justice, Vibhu Bakhru stated that law metamorphosizes itself all the time and in the times to come, arbitration is bound to grow and develop as it ensures expeditious disposal of cases. He emphasized that for arbitration to succeed as one of the modes of dispute settlement, institutes such as SFCA need to be strengthened. He added that virtual hearings in arbitration are a reality and despite the challenges being faced, arbitrators need to train as it may soon become the norm.
In addition to this, judge Pachnanda, said that the true challenge lies in the context of trials and lawyers will require both time and practice to become comfortable with it.
On the other hand, Lahiri, talked about International best practices being followed for selection of arbitrators and added that in International arbitration, virtual hearings have been followed for a long time as they expedite the process and are cost-effective.
Atul Sobti, address that India has improved in Ease of Doing Business rankings as the government has taken a series of steps to make India an investment hub but steps need to be taken in the area of enforcing of contracts. He also talked about SFCA's role and the future of arbitration through virtual arbitration.
The interactive session received an overwhelming response by over 500 participants including board members, Legal heads and other senior members of PSEs. Participants were also apprised about the role of SCOPE Forum of Conciliation and Arbitration (SFCA) in institutional Arbitration.