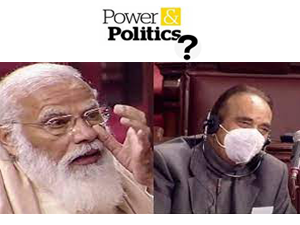 New Delhi (18.06.2021): In an absolutely 'inhuman' act against the Congress Party that must be taken cognizance by the Left-Liberal brigade, the NDA administration has allowed veteran Parliamentarian Ghulam Nabi Azad to retain his bungalow at a nominal cost after his retirement from the Rajya Sabha in February 2021.
After shedding tears and turning hugely emotional in his farewell address to Azad in the Rajya Sabha in February, PM Narendra Modi and HM Amit Shah are said to be keen to 'free' (Azad) from the 'Ghulami' of the Congress Party which not only prevented his rise as an alternative to the Abdullahs and Muftis, it is learned that the Congress Party deliberately denied him another term in the Rajya Sabha, believing him to be in the 'dissenters' camp' if not in the BJP.
The concession to Azad was extended till September 2021 attended with similar concessions to a few other politicians not of much importance at the moment.