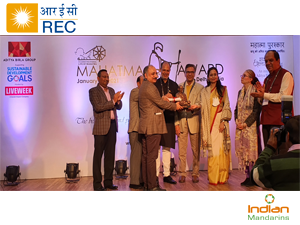 New Delhi (30.01.2021): REC Limited was conferred with the "Mahatma Award for CSR Excellence 2020" for its endeavours in the fields of education, nutrition, health, and the extensive humanitarian efforts undertaken to provide relief from the Covid-19 pandemic. On behalf of REC Limited, Dr SN Srinivas, CEO - REC Foundation, received the award. Some of the prominent people who were honored with the Mahatma Award at the ceremony held on Mahatma Gandhi 73rd death anniversary were Delhi Deputy Chief Minister Manish Sisodia and actress Shabana Azmi among others.

Speaking on the occasion Dr. Srinivas said that REC has been providing aid through its CSR activities even before it became mandatory in 2015. In the recent past, REC contributed to the betterment of health, nutrition and education parameters in seven aspirational districts. Furthermore, they have also responded to the pandemic not only by contributing to the PM-CARES fund but also by supplying meal packages and ration to over 100,000 people in over 30 districts across the country.
Additionally, REC has also initiated a program called 'School Aapke Dwar' - an innovative mobile school bus along with a solar roof system to power fans, lights, computer to run this mobile school; laptops; study material and school uniform for imparting free education to about 500 deprived children of migrant construction labors living in and around Gurugram, Haryana.