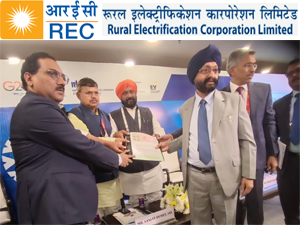 Gurugram (12.01.2023): REC Ltd inked strategic MoUs in the backdrop of the Madhya Pradesh Global Investors Summit 2023. The summit has drawn interest both at the national and international stage and witnessed participation from more than 314 companies. The first MoU was signed with the MP Power Management Company Ltd (MPPMCL) to extend financial assistance of ₹15,086 crore for upcoming Sarani and Amarkantak thermal power projects, system improvement works, technology upgradation, renovation & modernization etc.

The second MoU was inked with Rewa Ultra Mega Solar Ltd. (RUMSL) wherein REC will commit a sum of ₹1,000 crore as financial assistance for renewable energy projects covering the development of renewable energy parks/projects, and/or associated infrastructure including power evacuation. RUMSL has been designated as Solar Power Park Developer (SPPD) by the Ministry of New and Renewable Energy (MNRE) to develop large-scale solar parks in the state of Madhya Pradesh. This project will be a key addition to realize the renewable energy targets of Madhya Pradesh. The state aims to generate 20 per cent of its electricity through renewable sources by financial year 2024, 30 per cent by FY 2027 and 50 per cent by FY 2030. REC has the vision to become a leading financial services provider in the renewable energy space.

Additionally, REC in partnership with the World Bank has designed a financing facility for select state owned electricity distribution companies. As a part of this REC-World Bank program, the total volume of financing available shall be $ 1 Billion. Under this umbrella REC committed an amount of ₹5,000 crore to MP DISCOMs to further strengthen the distribution reforms.