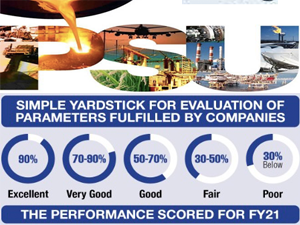 New Delhi (25.01.2022): In terms of performance, 22 CPSEs scored for FY21 'excellent' ratings, 39 'very good, 28 'good', 20 'fair', and 14 'poor' - representing 17.88% of total evaluated CPSEs, and 31.70%, 22.76%, 16.26%, and 11.38% respectively.

The annual official evaluation report shows that of 123 CPSEs, 45 improved their performance over FY20 either in terms of Score or Rating or both, 36 CPSEs maintained their previous ratings/performance whereas 41 CPSEs were losers - HIL being the worst with a score of 0, MTNL 1.40, and ITPO, NEHHDC trailed among poor performers.
The yardstick for evaluation is simple: companies fulfilling 90% of the parameters get Excellent marking, 70-90 % 'very good, 50-70 % 'good', 30-50 % 'fair', and below 30% are rated 'poor'.
From the evaluation report, it is not clear if any of the CPSEs failed to submit the performance documents for the period. In
FY2019-20 of 144 CPSEs
, four had failed to submit the performance documents and were put under the 'poor' category.
The ratings of CPSUs is an annual exercise carried out by the Department of Public Enterprises based on the MoUs which it signs with all CPSEs at the beginning of the fiscal year in April and covers the performance of the company till the end-March of next year. Because of the collation and analysis of data on a large scale, the report normally has a lag effect of one year.
The Department of Public Enterprise (Ministry of Finance) had for
FY20 announced the MoU Score & Rating of 144 CPSEs
whereas for FY21 it announced the rating for 123 CPSEs. The reasons for the reduced number of CPSEs can be attributed partially to the selling-off of five Air India entities to Tata Sons and others including State Trading Corporation (STCIL). Many other CPSEs aren't covered in the list, namely, National Seeds Corporation Ltd, Bharat Immunological & Biological Corporation Ltd, National Informatics Centre Services Inc., FCI, HLL Infratech Services Ltd, Scooters India Ltd, HPCL Biofuels Ltd., Kolkata Metro Rail Corporation, Karmajar Port Ltd, Antrix Corporation Ltd., Central Cottage Industries Corporation of India Ltd and National Textiles Corporation Ltd.
(By RAKESH RANJAN)
ALSO READ: