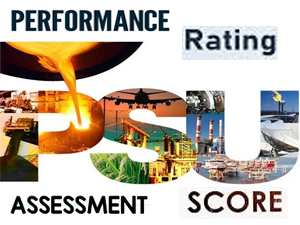 New Delhi (13.10.2021): For FY20, the DPE screened the performance report of 144 Central Public Sector Enterprises (CPSEs) under five grades (based on scores) of rating: Excellent, very good, good, fair, and poor. Roughly, the companies securing 90% and above qualify as 'excellent', 70-89 percent score is considered 'very good, 50-70 percent 'good', 30-50 % 'fair' and below 30% is rated 'poor'.
Of 144 CPSEs, four failed to submit the performance documents for the period and were put under the 'poor' category.
Of 10 CPSEs under Power Ministry, NTPC, POSOCO, Power Grid (PGCIL) have earned 'excellent' rating for their performance in FY20 whereas four others (PFC, NHDC, REC, THDC) have earned 'very good' ratings. The point to be noted here is that despite getting the second-best score, Power Finance Corporation (PFC) has earned the status of 'Maharatna' CPSE on Tuesday.
The ratings of CPSUs is an annual exercise carried out by the Department of Public Enterprises based on the MoUs which it signs with all CPSEs at the beginning of the fiscal year April and covers the performance of the company till end-March next year. Because of the collation and analysis of data on a large scale, the report normally has a lag effect of one year.
Only Air India, which has returned to Tata Group after going through socialist and semi-socialist experiments over the last 60 years or so after it was snatched by a wilful Nehru government from Jeh Tata, is fallen among the companies rated poor with a score of 29.
As many as CPSEs 25 earned the 'excellent' rating; 34 'very good'; 32 'good'; 25 'fair' whereas 28 earned 'poor'. In terms of percentage, 17% of the CPSEs were rated excellent, 26% Very Good; 22% Good; 17% Fair whereas 19.5% CPSEs were rated Poor.
Not surprisingly, none of the CPSEs under the administrative control of the Ministry of Steel, Commerce, Coal, Textiles, Telecom earned an Excellent ranking. Of 17 CPSEs under the Oil & Gas Ministry, none earned an 'excellent' rating but six of them were found 'very good.
Of 12 CPSEs under the Ministry of Railways, 6 secured 'Excellent' and CONCOR got a 'very good' rating. Luckily, none of the CPSEs under Railways falls under the 'poor' rating.
Chandigarh International Airport Ltd is rated excellent with a score of 96.52% and the Airports Authority of India (AAI) is rated 'very good with a score of 77%.
Finally, good news. Artificial Limbs Manufacturing Corporation of India under the administrative control of the Department of Empowerment of Persons with Disabilities earned the 'excellent rating.
(By Rakesh Ranjan)