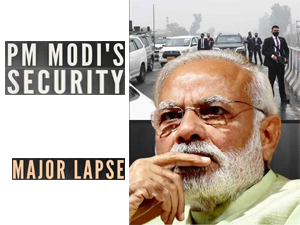 Chandigarh (13.03.2023): After Union Home Ministry sought action-taken report against the erring officers in the case of security breach of the Prime Minister, the Punjab government is set to take action against officials indicted by the SC-appointed committee including a former CS and the then DGP besides others. The committee probed the breach of security during the Prime Minister's visit to the state on January 5, 2022.

Union Home Secretary Ajay Bhalla asked Punjab Chief Secretary Vijay Kumar Janjua to submit the report, highlighting the delay by the Punjab government in acting against the erring officers. The report of the inquiry committee had indicted the then state chief secretary Anirudh Tewari, the then Punjab DGP S Chattopadhyaya, and other top officers for lapses.
Janjua said that there will not be any delay. After all, it is a matter of the Prime Minister's security. Action will be take action. The government is replying to the Centre and will inform them about the action taken by the government.
The committee, headed by retired Supreme Court judge Justice Indu Malhotra, had also indicted SSPs Harmandeep Singh Hans and Charanjit Singh, Additional DGPs Nageswara Rao and Naresh Arora, IGs Rakesh Aggarwal and Inderbir Singh and the then deputy IG Surjeet Singh (now retired). The report was submitted on August 25 last year.