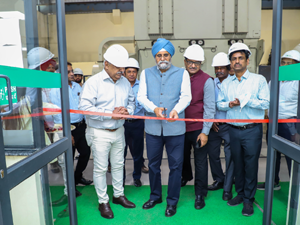 New Delhi (11.05.2023): PFC CMD Ravinder Singh Dhillon on May 10, 2023, visited Tehkhand Waste To Energy Project Limited, a PR Jindal Group company, which is operating a 25 MW Municipal Solid Waste (MSW) based Waste to Energy (WTE) project in Delhi.

The project is the largest WTE project funded by PFC with an aggregate loan amount of around Rs 322 crore and is handling almost 2000 tonnes of waste per day thereby contributing immensely towards Swachh Bharat Mission. The project has been operating satisfactorily with almost 100% PLF and the power generated from the project is being sold to Delhi distribution companies.
On the occasion, CMD, PFC, also inaugurated the newly established Control Room at the plant which is a state of the art facility. CMD, PFC, congratulated the company that completed the project despite facing challenges posed by the COVID pandemic. Taking the business relationship between PFC and PR Jindal group forward, exploring business prospects in other infrastructure segments was also discussed.
PFC is the lead financier of the Waste to Energy Projects and has sanctioned financial assistance of around Rs 2000 crore across 13 projects spread across the country with capacity of more than 200 MW. Apart from this, 4 new WTE projects are under sanction process at present with loan amounts of more than Rs 800 crore.