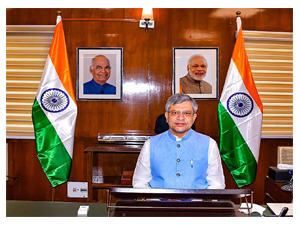 New Delhi (07.09.2022): The Indian Railways is on a fast track to achieving the production targets for coaches, wheels, and locomotives, for 2022-23.
The Indian Railways Production Units like the Integral Coach Factory (ICF), Rail Coach Factory (RCF), Modern Coach Factory (MCF), Chittaranjan Locomotive Works (CLW), Banaras Locomotive Works (BLW), Patiala Locomotive Works (PLW), Rail Wheel Factory (RWF) and Rail Wheel Plant are performing excellently to meet the targets and are supplying the ever-increasing requirement of Rolling Stock for the Indian Railways.
The coach manufacturing units are making Vande Bharat, LHB, EMUs, MEMUs, Vistadome, and other coaches to enable Indian Railways to induct another 75 Vande Bharat trains by August 2023 as per the vision of Prime Minister Narendra Modi.
"All Production Units of Railways are performing excellently. They are supplying the ever-increasing requirement of Rolling Stock for Indian Railways. All the Production Units continue to get modernization inputs in the form of the latest M&P, Sheds, and facilities. Even during the period of COVID time, the Railway Production Units continued to support the railway sector by producing coaches by following the prescribed COVID norms," read a statement by the Ministry of Railways.
The Government also has ambitious plans to recapture the freight market share by Railways from the present 28 percent to 40 percent in the next 10 years.
On Monday Railways claimed to have recorded the best ever August monthly freight loading of 119.32 MT in the month.
Railways' NCR zone recently created a record by operating a 2.7-kilometer-long freight train, called Pinaka, by combining four trains to ferry coals from the loading sites of the East Central Railway.