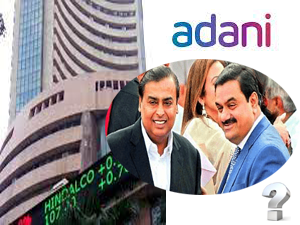 New Delhi (14.06,2021): The NDA administration is said to have nipped in the bud a major conspiracy hatched by a former Union Finance Minister in cahoots with his crony foreign portfolio investors (FPIs) to create a sort of bubble in the stock market by rigging the shares of Adani group companies.

Consequently, as soon as the stock markets opened today, shares of Adani Enterprises and Nifty 50-listed Adani Ports and Special Economic Zone crashed along with those of Adani Power, Adani Green Energy, Adani Transmission, and Adani Total Gas witnessed huge selling pressure, though, by the time of market closure, they had recovered some of their lost values.
The curtain on this new episode of the stock market reminding one of the shocks triggered by defaults by NBFCs in 2019 went up after stock market racket buster Sucheta Dalal's WhatsApp message of reported rigging of shares of companies of a particular group went viral (she didn't name the company nor the former finance minister). Soon it came to light that the NSDL, according to its website, has frozen the accounts of three FPIs -Albula Investment Fund, Cresta Fund, and APMS Investment Fund on May 31.
Together, the three funds reportedly own investments of over ₹43,000 crores in four Adani Group companies. By the way, most Adani companies are highly leveraged, have poor return history, and their valuations have skyrocketed from their fair value to the high-risk category in the last year.
Bloomberg says the three above-named FPIs, along with Elara India Opportunities Fund, LTS Investment, and Asia Investment Corp, have put more than 95% of their assets in Adani group firms. Do these investors have a better sense or have they been acting recklessly or have they been acting under 'an arrangement?
Curiously enough, these FPIs have never revealed the names of their beneficial investors. And that was prima facie the reason for freezing of the accounts of three FPIs.
But beneath the surface, there was something that made NSDL move in action. Because research may throw up a lot of data regarding the non-disclosure of beneficial accounts of many FPIs. And none of them has seen their accounts frozen ever on this count.
So, what could have attracted the NSDL attention, of course with a little playful and a mischievous wink from the top, was the highly unusual scheme adopted by the three FPIs of putting all their eggs in one basket.
While such huge allocation of funds in the companies of one group that is continuously flogged, among others, by the main opposition party for its supposed proximity to the top NDA leadership may seem absolutely unwise, it doesn't explain why the three FPIs chose this unwise course.
Only if one applies the concept of reckless vengeance can this sort of phenomenon be explained.
And stories of this reckless vengeance unleashed by certain political parties and their civil society affiliates are written all over the wall. Take, for instance, how the Covid pandemic was projected and sought to be exploited for running down the leadership quality of PM Narendra Modi.
(By MK Shukla & Rakesh Ranjan)