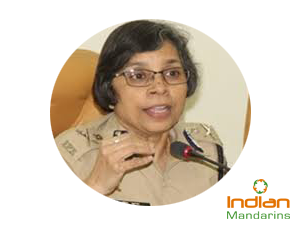 New Delhi (24.08.2021): Official sources believe that Maharashtra Chief Secretary Sitaram J Kunte, who has allegedly tried to wriggle out of the leakage of an evidence-based (through phone tapping) report on high-level corruption in police transfer and posting, is finding himself dragged into the vortex of law.

Sources say that he did serious miscalculations by blaming senior state cadre IPS officer Rashmi Shukla, now ADG of CRPF based in Hyderabad, for the leakage of the corruption report that was cited in March this year by former CM and leader of the opposition in state assembly Devendra Fadnavis, he is sadly mistaken.
While giving Mrs Shukla protection against any coercive action by the state administration on August 21, a Bombay HC division bench of Justices S. S. Shinde and N. J. Jamadar on Friday and Saturday heard Shukla's lawyer Mahesh Jethmalani's revelations of the whole episode whose center of gravity, as pointed out by Mahesh, was none other than Kunte.
Jethmalani said: "My client is made a scapegoat for the alleged leakage (of confidential documents). The whole reason behind filing this FIR is to prevent documents from going to the CBI. You (Sitaram Kunte) sanctioned interceptions then why are you making an issue about it now? After Shukla was stripped of her post, over 150 police officials were transferred and nine people got the posting they bargained for."
He added: "There should be a limit to state arrogance. There is a departmental inquiry. My client is willing to take a lie detector test regarding what really happened, and with the hope that others who have made the accusations against her should also do the same."
Mahesh, then, hit the nail into Kunte: "What were you (Sitaram Kunte) doing when you repeatedly sanctioned all interceptions? Sitaram Kunte cannot disown his interests and make my client a scapegoat, however hard he may try, he cannot do it. Where was the application of mind while sanctioning the phone taps?"
He added, "What is hurting the state is that somebody in the opposition (Fadnavis) got hold of the transcripts and broadcast them. You were the final deciding authority. If the transcripts intercepted are not worth it, then why the witch hunt?"
State advocate Darius Khambata stated the FIR against Rashmi Shukla pertained to data theft and leakage. He argued that the documents were admittedly confidential and "leaking of such documents which eventually found their way into the public domain was a serious offence to be investigated into".
Was Khambata joking? Could a report on corruption be termed 'confidential' and an 'official secret?' When was a law made to this effect?
(By Rakesh Ranjan)