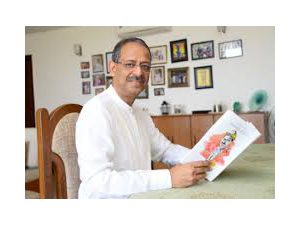 Anil Swarup's (Retd IAS:1981:UP) forthcoming book "Not Just A Civil Servant", to be launched on February 23 at the Constitution Club, New Delhi, and subsequently from a number of other cities, may not shake this country but it may surely call to attention the disease that is plaguing our polity and administration.
Being a career civil servant with an honorable track record, his knowledge and information about certain events that shook the country are direct and first hand; and, therefore, they deserve to be taken seriously. Further, his experience as a civil servant needs to be grasped and reasonable deductions made.
From his newspaper articles, blogs, and tweets written months after his retirement from the government, it looks that the book may be a responsible exposition of the administrative problems facing the nation.
Since his first assignment at Secretary level was as Secretary Coal, let's begin with his viewpoints on the much-talked-about coal scam.
"I am surprised at the fuss around the dominant role of the PMO. This institution has played an "important" role in all governments. Many believe that directives to allocate coal blocks in UPA govt. came from the PMO. It is just a matter of subjective assessment about the degree.
Here, it seems that he has obfuscated the issue. In view of what happened to officers like H C Gupta who all their life enjoyed an enviable reputation for honesty and integrity, it was imperative for Swarup to elucidate the role of the PMO and some suspected extraneous agencies in coal block allocations.
It's no good now to blame then CAG for following the asset valuation methodology instead of discounted cash flow methodology. It should have been done then and there. Particularly when the C&AG report was tabled in Parliament, the PM should have been advised and persuaded to reveal the fault lines in the report. Was it at all done?
Here, it's apt to remind him of one of his own tweets: "It is indeed ironical that if we can't prove a point through argument, logic, and data, we create so much obfuscation around it that discerning the truth becomes very difficult. In short, if you can't prove, just confuse. Some of us have perfected this & made this into an art form."
Since more often, government's failure to legally defend its actions and convince people politically of the legitimacy of its actions lead to officers like Gupta being sent off to serve in the clink, Swarup is absolutely right in asserting that "If we hound the honest, society & administration will be left with either dishonest performers or deceitful non-performers".
Swarup also functioned as education secretary for a short time. His tweet that "this mafia in the education sector is much more sinister than the one in coal, eating into the essentials of our society" tells us that he may reveal in his book what needs to be done since both central and state governments have stepped back from investing in this sector which is turning the demographic advantage into a demographic calamity.
He seems to be right in stating "how can you expect a department like Education to be in the pink of health if it sees five secretaries in the first two and half years of the government? Officers with such short tenures can hardly deliver anything on the ground in the given period. Each officer should be given at least two (preferably three) years in an assignment". In this context, it may be worthwhile to recall the contribution of late Anil Bordia, who in his 5-year term as education secretary, tried to transform the education scenario of the country, backed, as he was to the hilt, by no less than the legendary PV Narasimha Rao and his successors in the second half of the eighties and early '90s.
But his best comments are reserved on the existing state of affairs in governance which have been frequently highlighted in the columns of this website.
On the mysterious empanelment methodology, Swarup says "Glad that an extremely efficient officer, Anoop Pandey, has been granted an extension for 6 months as Chief Secretary, UP. It, however, raises serious doubts about the opaque 360° evaluation that had denied him empanelment at the Centre".
His other tweet said: "The opaque 360° assessment of Civil Servants based on "hearsay" needs a re-look. How do you explain an officer found unfit for empanelment at the Centre holds the highest post in the biggest state and does well? There is indeed something amiss somewhere".
On January 12, 2019, he tweeted: "How far is it true to blame politicians for all the mess in the country? They have their share but 5 C's (CVC, CBI, CAG, Courts & CIC) are the biggest inhibitors to decision making. These "august" institutions are manned by non-politicians (civil servants). Time to introspect"? Maybe he is right.
A day before he had tweeted on CBI Director's ouster: "How do you explain that the same CVC who finds an officer above board for a critical post suddenly discovers something so condemnable as to warrant his removal? If the officer was so "bad" why was he appointed in the 1st place? If he was "good" how did he suddenly become "bad"?
In the end, one wishes him good luck hopes he makes a ton of cash from selling his book. The sale of his books will reveal whether his tweets, tantalizing potential buyers, were at all effective.
The book, according to his tweets, deals with UP's transfer industry, demolition of Babri Masjid, the fallout of Coal "scam", CBSE Exam Paper Leak, and Rashtriya Swasthya Bima Yojana (RSBY). It also has a string of advice for serving officers, key among which is not to let down your honest colleagues for the sake of personal gain.
The bottom line of his book seems to be that "We are so fond of "scams" that we "manufacture" one even when it doesn't exist. The unscrupulous politician, ambitious bureaucrat, gullible public & TRP hungry media laps it up. It serves their purpose. However, such a plethora of manufactured chaos allows real scamster to escape".
Well said. The real scamsters in coal block allocations and 2G are free and rolling in wealth and political power. And, those ones also who gave 'notional figures' a national perspective.Â
The following is the schedule of Swarup's book release:
Delhi - 23rd Feb 2019 - Constitution Club - 1600 Hrs
Lucknow - 5th March 2019 - Jaipuria Institute of Management - 1700 Hrs
Kolkata - 12th March 2019 - Bengal Club - 1730 Hrs
Bangalore - 23rd March 2019 - Location TBC - 1700 Hrs
Mumbai - 6th April 2019 - The Universal School - 1100 Hrs
Mumbai - 6th April 2019 - FIEO, Andheri (E) - 1600 Hrs
Jaipur - 18th April 2019 -Jaipuria Institute of Management - 1600 Hrs
(By M K Shukla and Rakesh Ranjan)