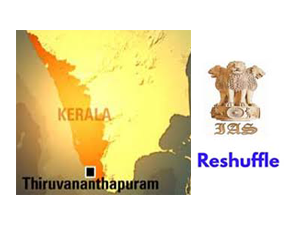 Thiruvananthapuram (24.11.2022): The Kerala government has enacted a minor reshuffle of IAS officers with immediate effect. These officers are as follows:

Dr V Venu (IAS: 1990: KL), additional chief secretary, Home and Vigilance Department, will hold the full additional charge of the Water Resources Department.
K Vasuki (IAS: 2008: KL), labour commissioner, will hold the additional charge of director, Loka Kerala Sabha.
S Karthikeyan (IAS: 2011: KL), officer on special duty to the chief minister, will hold the full additional charge of special commissioner, Kerala Goods and Services Tax Department.
T V Anupama (IAS: 2010: KL) has been posted as commissioner for land revenue with full additional charges of commissioner, disaster management and state project manager of National Cyclone Risk Mitigation Project.
Pranabjyoti Nath (IAS: 2005: KL) will continue to hold the post of secretary, water resources department, with full additional charges of coastal shipping and inland navigation department and MD, Kerala Irrigation Infrastructure Development Corporation Ltd.