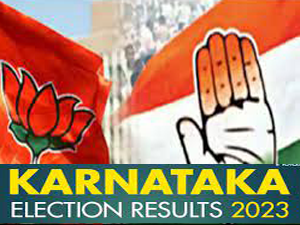 New Delhi (13.05.2023): The Congress has secured a decisive win over the BJP in Karnataka to silence its detractors in the country that they cannot deal with the strategy of the BJP. They not only proved it wrong but avenged Gujarat in almost similar fashion. A new non-Gandhi president of the Congress Mallikarjuna Kharge has brought two all cherished victories that it was vying for long to reenergise its cadre.

The Congress raised local issues and took that to people, which they were more than eager to listen to. Corruption was a big issue in the state and the way Rahul Gandhi held the Centre responsible for corruption charges and failing to rein in a corrupt government of the state, it worked well for the Congress. The 40 per cent government jibe, contractor's suicide note and arrest of the son of a ruling party MLA with huge cash were enough examples to blunt BJP's war against corruption. What worked in Karnataka for all this to happen?
For the Congress…
The state Congress leadership remained absolutely united with some minor public speaking against each other.
The Gandhies were campaigning but their presence was not played up as always done.
The Central leadership of the Congress has not gone overboard and completely relied on state leadership.
In the run up to the election, two-year sentence to Rahul Gandhi and subsequent loss of LS Membership seems to have angered people of the state.
The Entire Budget Session of Parliament was washed out on corruption issue which clicked for the Congress and the government was not ready to debate.
Promise of banning Bajrang Dal united Muslim votes behind the Congress deserting Janata Dal (Secular).
Promise of bringing back 4 per cent Muslim reservation too seems to have helped the Congress.
The Congress handled every issue with perfection that has discredited the BJP especially in last two three months.
…And for the BJP
The Central BJP leadership has done more than enough in the state but failed to turn the tide against it.
CM Basavaraj Bommai proved to be too meek to deal with state Congress leaders and entire state BJP leadership was no answer to Congress. B S Yeddyurappa was almost in retirement mode.
The state government and state leadership failed to defend corruption charges.
A complete chaos prevailed in the state administration as if the CM had no control over bureaucrats. There was a free for all kind of situation.
Amul and Nandini controversy invoked Kannada sentiment in the people of Karnataka and harmed the BJP.
B S Yeddeyurappa was neglected and by the time his help was sought help, it was too late.
Free hand was given to BJP oganising secretary for state being his own but people defected to other parties accusing him only.
Tejeshwi Surya's name in controversy also harmed the BJP which alienated youths.
(By Rakesh Ranjan)