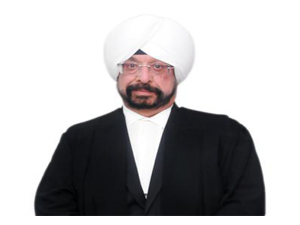 New Delhi (17.06.2022): An IAS Officer mentoring future Civil Servants & Judiciary Aspirants "While searching for guidance and coaching, students are often told to look for experienced mentors and teachers. What more experience can you ask for than a former IAS officer and a law expert himself taking classes" says Garima, a final year student of NLU, Nagpur and a UPSC aspirant with Law as her optional subject.

Mr Jasbir Singh Bajaj, I.A.S. (VRS) 1987 Batch, Tamil Nadu Cadre, who is the founder of "BE N BY IAS" (Platform for UPSC CSE and Law Optional Aspirants) and "Judicial Disha" (Platform for Judicial Services Examination Aspirants) strives to provide every aspirant an opportunity to be guided, trained and prepared for accomplishing the herculean task of clearing India's two of the most difficult examinations within the shortest possible time with highest standards of quality inputs. It is true that one need not be a topper or a gold medallist for being successful in Civil Services Examination or Judicial Services Examination. Nevertheless, being focussed and persistently hard worker is the key to success for which you need a motivator, guide and mentor, who prepares you for these challenges with his own example of success and experience of unique and unmatchable nature.
You can get "coaching" from numerous teachers but only an experienced and devoted mentor, interested in cutting and polishing a structured piece of element carbon into a bright and shining diamond, can take you onto the path of success. Jasbir Singh Bajaj started his career as a Sub-Inspector of Police in Central Bureau of Investigation (CBI) by achieving AIR 1 in 1980. However, with his zeal of becoming an IAS officer, he had to resign as Inspector of Police in 1985 after being denied permission to appear in Civil Services Examination by CBI. With his determination, hard work and focussed preparations, he was able to secure 89th Rank in his first and only attempt with Law and Public Administration / Management as his optional subjects in the Civil Services Examination, 1986 of UPSC and finally accomplished his dream of becoming an IAS Officer in 1987. He had opted for Law even though he was not having a formal degree in Law at that time.
His life is a journey of learning and always being in Pursuit of Excellence. He is now having 5 masters degrees to his credit in addition to the Bachelor of Laws (LL.B.) from University of Delhi followed by Master of Laws (LL.M.) from Indian law Institute (ILI), Master of Business Laws (MBL) from NLSIU in the field of Law and an M.B.A. (International Business) from Indian Institute of Foreign Trade and a Master in Marketing Management (MMM) from Pondicherry University in Management and an M.A. In Public Administration from Panjab University. Keeping his commitment to the pursuit of excellence he is in the process of getting his Doctorate (Ph.D.) in Law from GLA University. His other accomplishments are unmatchable too, which include several national and international Certifications & Diplomas especially in the field of Alternative Dispute Resolution (ADR) with accreditations as an International Civil / Commercial Mediator from top agencies like International Mediation Institute (IMI), UK, Singapore International Mediation Institute (SIMI), Singapore, Civil Mediation Council (CMC), UK and ADR ODR International, UK. He epitomizes an extremely rare blend of a former Police Officer, Top Ranking Civil Servant, a Legal Expert and a global Peace Maker.
Taking further his deep-rooted passion for Law, he, in his new avatar as a Guide and Mentor, has taken up, very dutifully, the task of imparting knowledge and sharpening the skills of the aspirants of Civil Services and Judicial Services to the path of success and handing over the baton which he himself has been carrying out for more than three decades in Civil Services and Legal Profession to be handed over to the next generation in the service of our great nation India.
"The general belief is that 'Law is nothing but common sense and logic', however my own strong understanding is that Law is a blend of knowledge, logic and common sense'. While we disseminate knowledge, you lend logic and common sense to attain the pinnacle of legal proficiency" says JS Bajaj.