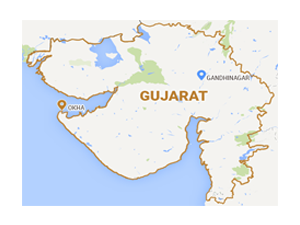 New Delhi (10.06.2021): The Indian Oil Corporation (IOCL) and the Gujarat government have signed an investment promotion agreement for adding petrochemical and lube plants to Koyali (Vadodra) Refineries' planned and approved expansion of crude oil processing capacity to 18mn tons from the current 4.3mn tons.

The investment agreement involves adding plants to produce 500,000 tonnes of polypropylene and 2,35,000 tonnes of lube oil base stock per year. The total investment is put at ₹24,000 crores. And it will enable IOC to produce a range of petrochemical projects.
IOC said MoU was also signed for infrastructure facilities at Dumad for Koyali-Ahmednagar-Solapur Pipeline and tank truck loading facility for Linear Alkylbenzene (LAB) - a feed-stock for detergent industries.
The other infrastructure projects planned are a new flare system at the Gujarat refinery and a hydrogen dispensing facility for Fuel Cell Electric Vehicles (FCEV), which will be the country's first and is aimed at fueling hydrogen buses plying between Vadodara and Kevadia /Sabarmati Ashram.
Giving details, IOC Chairman SM Vaidya said, "Gujarat Refinery is now poised to grow to 18 MMTPA capacity. New units for the production of polypropylene, butyl acrylate and lube oil base stocks will also be added to the refinery's portfolio".
These projects, he said, will enable large-scale direct and indirect employment opportunities during the peak construction period and later for the operation of these facilities.
During the construction stage, around 125 million person-hours of employment will be generated.
The project also aims at equipping the plant with greater flexibility to weather future disruptions in the supply-demand scenario and more closely integrate its production with downstream petrochemical units.