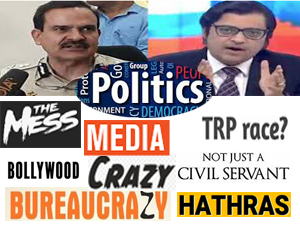 Analysis of Open-source intelligence (OSINT) reports suggests that the ruling BJP may not find it convenient or useful to focus its ire on Mumbai Police Commissioner Param Bir Singh in its battle against the Shiv Sena-NCP-Congress government of Maharashtra. The bottom line is he may not face the music like former Kolkata Police Commissioner Rajiv Kumar.
Once an administrative issue is caught in the quagmire of politics, leaders prefer to let it sort out itself in due course. The same may be the preferred option in the case of Mumbai Police Commissioner Param Bir Singh's involvement in cooked or uncooked controversies that emanated from a host of unfortunate incidents (Ajit Pawar's oath as CM and clean chit, SSR death case, Rhea, Bollywood, Drugs, TRP tampering) in quick succession.
While Singh may or may not have followed the path of neutrality in his conduct as an IPS officer, he has been known as the 'most obedient public servant' of every political dispensation of the state. During the previous BJP-Shiv Sena government, for example, he followed the political direction or inclination of the regime to implicate and neutralize individuals and organizations opposed to the Fadnavis administration.
Similarly, when the NCP-Congress government ruled the state from 2005-09, he, as a distinguished member of Maharashtra Anti-Terrorism Squad (ATS), which proved its "professional competence" in its despicable failure to deal with the 26/11/2008 terrorist strike on Mumbai, was, however, very good at promoting the 'saffron terror conspiracy" implicating and torturing counter-terrorism Operations expert, Col. Prasad Purohit, and present Bhopal MP Sadhvi Pragya Thakur.
More instances could be cited from Singh's career records to show his great survival instinct, not a condemnable thing at all in view of the quality of the elected representatives all over the country.
Further, OSINT reports point to his 'deep and intimate' connection with the BJP - deeper and more intimate than those of Republic TV Arnab Goswami and actress Kangana Ranaut who are seen as the spearheads of the BJP's double pincer maneuver to discredit and destroy Uddhav Thackerey, Sharad Pawar, Sonia Gandhi axis founded on the tried and tested primordial principle of dynastic alliances.
The Mumbai police commissioner, through his son Rohan and his wife Radhika Meghe, is related to a prominent BJP family of Nagpur with deep political connections, friends, and associates across the spectrum. In brief, it's a highly networked family.
Radhika is the daughter of businessman Sagar Meghe who is the son of Datta Meghe, a highly-skilled politician who, having spent a lifetime in Congress Party and being its MP, MLA, and MLC for a long time, decided to cross the 'Vaitarni' by tagging himself with the BJP in 2014. Sagar's brother, Sameer, is a BJP MLA. The family business includes a lot of educational institutions and commercial organizations.
So, from whichever angle you may look on the basis of OSINT reports, it is clear that Singh is well protected by his web of alliances and patronage given and received. Moreover, his reputation to save and protect his subordinates in every given situation, an admirable true leadership quality, stands him in good stead.
In the given situation, it is not seen as convenient or beneficial for the BJP to get directly involved in the scramble for power among its different constituents. To limit the strife, however, it has been balancing forces to save its spearheads like Arnab and Kangana. In the case of the former, a TRP case was filed in Lucknow and transferred to CBI; in the case of the latter, Y-category security was provided for safety against any physical assault from Sena hoodlums.
(By M K Shukla and Rakesh Ranjan)