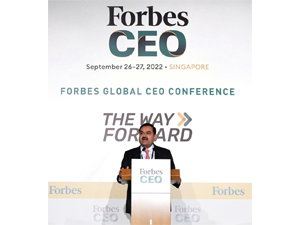 New Delhi (27.09.2022): India is full of incredible opportunities. The real India growth story is just starting. This is the best window for companies to embrace India's economic resurgence and the incredible multi-decade tailwind the world's largest and most youthful democracy offers, said Indian billionaire Gautam Adani, the chairman of conglomerate Adani Group while sharing his vision for India and its rising role in the global economy at the 20th Forbes Global CEO Conference 2022, held in Singapore.

Inviting the investors to the country, Adani, while delivering his keynote address said, "We will be the country that will go from a 3 trillion-dollar economy to a 30 trillion-dollar economy, a country with a stock market capitalization of 45 trillion dollars, and a country that will be supremely confident of its position in the world. I invite you to bet on India and embrace India's aspirations and potential."
Excerpts from Gautam Adani's address:
We all realize that the last few decades have been a time of remarkable economic growth for the world. In this context the conference theme "The Way Forward" is fascinating. Because the lenses through which – you and I – define "the way forward" may not be the same anymore.
In my view, globalization is at an inflexion point. It will look very different from what we had come to accept in a largely unipolar world.
On top of all of this, a war that has implications well beyond its borders, accelerating climate change challenges, and uncertainty about future pandemics - together - means we are in unchartered waters. And the sails of this story are still unfolding. We must recognize that we are now witnessing a new set of geopolitical couplings as we transition into a multipolar world. What I see ahead are the new principles of global engagement based on greater self-reliance, lowered supply chain risks, and stronger nationalism. Some have called this 'the rising tide of deglobalization'.
Therefore, the question is – where does this leave India? In my view, global turbulence has accelerated opportunities for India. It has made India one of the few relatively bright spots from a political, geostrategic, and market perspective.
Also, I anticipate that China – which was seen as the foremost champion of globalization - will feel increasingly isolated.
Now, talking about India – I will be the first to admit that we are far from perfect. However, I will also claim that the essence of India's democracy lies in its imperfection. What many see as India's imperfections reflects a thriving and noisy democracy. Only the free can afford to make noise – to have their imperfections visible.
The fact is India has just become the world's fifth largest economy. The fact is India is on the path to being the world's third-largest economy by 2030. The fact is India's real growth is just starting – as it goes from its 75th year of freedom this year – to its 100th year of independence. Our country calls this period – Amrit Kaal. Meaning the perfect period for beginning a better tomorrow.
Let me now envision the next 25 years. Over this period, India will comfortably become a country with 100 per cent literacy levels. India will also be poverty-free, well before 2050.
While this journey of India's growth to date has been driven largely by domestic investments, we recognise that an economy needs both domestic and foreign direct investment. I expect the flow of FDI into India to further accelerate and rise above 500 billion dollars over the next 15 years – making India by far the world's fastest-growing destination for FDI.
This confidence of a nation is also reflected in the scale of the decisions corporates make. This has been the case with the Adani Group as we benefit from a rising India.
Let me conclude by saying that my views come from being an incurable optimist. It is the blue in the sky that Indians believe to be the symbol of the limitless.
A democracy whose time has come cannot be stopped and India's time has arrived.