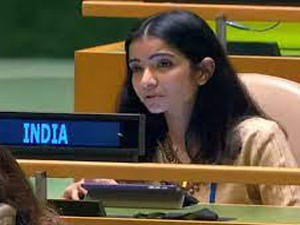 New Delhi (27.09.2021): Sneha Dubey (IFS:2011), India's First Secretary to United Nations, is not only applauded for exercising her responsibility as a diplomat but also keeping her composer intact before certain imposing Indian media during PM Narendra Modi's US visit. Ms Dubey delivered India's right to rebuttal on the falsehoods attempted by Pakistan Prime Minister Imran Khan. But in Dubey's case, it wasn't just her stinging quote, "Pakistan is an 'arsonist' disguising itself as a 'fire-fighter'."
More glory came to her thanks to extra enthusiastic Indian media gatecrashing into an ante room where she was calmly reviewing some papers. Adopting standard procedure of thrusting the gun mike demanding a quip. But what did Dubey do? She smiled charmingly and didn't utter a word. Not even "no comments".
But the way Indian media tried to encroach upon the private space of Dubey which no one is allowed to enter without prior permission has made her darling of the internet. Her composure before the intimidating media which tries to put words in your mouth to make a sensation was responded in such a way even without uttering a single word that she became the darling of millions. However, she was simply performing her duty.
By appearance, Dube looks like a college-going girl not an IFS officer with over 10 years experience. She was born in Goa with primary education in Goa and Pune's Fergusson College, culminating in a master's from New Delhi's Jawaharlal Nehru University. She dreamt of joining the foreign service when she was 12.