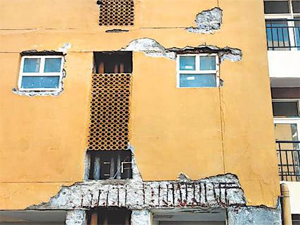 New Delhi (09.12.2021): NBCC, a Navratna PSU, has decided to refund the money paid by flat owners of the NBCC's Green View housing project in Gurgaon along with interest and the cost incurred by owners on interiors of their respective flats before they move out. The company has asked the residents to vacate premises for safety reasons.

However, the interest rate has yet not been decided by the board of directors of the company. The housing society has 786 flats that were partially completed in May 2017 and buyers were given possession. But within two years of completion, buildings including their pillars and beams started developing cracks. IIT-Delhi, which was appointed to conduct a structural audit by the Union ministry of housing and urban affairs, in its report on November 18, 2021 found buildings unsafe and required retrofitting.
Substandard materials were used in construction and drawing was also found faulty. So, the company asked residents to vacate flats. RWA has asked for additional compensation for the mental torture and physical hardship endured by them in the last two years by staying in the shoddily constructed project. Besides, the residents said prices in the locality had doubled since 2011, when they had booked their flats. The association has asked for adequate compensation for them to buy another house.
Most of the residents are retired from the central government and bought flats thinking as they were being constructed by a Navratna company, they would be safe. The residents were given the first vacation notice on October 3. A second notice was sent on October 13 to vacate homes by November 10. However, many residents didn't vacate the flats as they couldn't find suitable accommodation.
ALSO READ:
NBCC' Green View fiasco; a true case of breach of trust (07.11.2021)