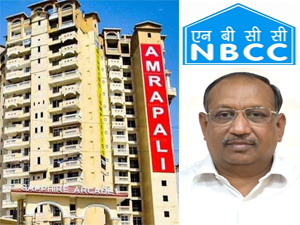 Supreme Court constituted a committee under the Chairmanship of Ld. Court Receiver, R Venkataramani, on 09.04.2020, gives go-ahead asking NBCC to call tenders for the execution of three more Amrapali Stalled Projects of Noida-Greater Noida namely; Leisure Park Phase I & II; Leisure Park- River View and Kingswood in Smart City comprising 4489 units in all valued at Rs. 1046 cars.

Earlier on 18 March and 20 March the Court Receiver gave nod to NBCC for tendering and execution of 9 projects of Amrapali in Noida-Greater Noida assuring timely release of funds. These projects included 08 projects in Greater Noida namely; Leisure Valley Villas, Verona, Adarsh Awas Yojna, Golf Homes, Dream Valley Ph 1 Villas and Phase II; Enchante, Terrace Homes and Tropical Garden in Centurian and Project Crystal Homes in Silicon at Noida- all comprising 27223 housing units worth Rs. 5769 Cr.
NBCC has started the process of tendering for all these projects even during the lockdown period with tenders for 07 Projects namely; Golf Homes, Centurian Park, Leisure Valley Villas, Crystal Homes, Dream Valley Phase-1 (Villas), Dream Valley – Enchante and Leisure Valley- Adarsh Awas Yojana, already floated. Tenders for further projects are in the process of floating and will be invited shortly irrespective of lockdown.
This apart, execution work of 08 Stalled Amrapali Noida-Gr. Noida projects tendered and awarded earlier (7 at Noida and 1 at Greater Noida), comprising a total of 12169 Units and valuing Rs.634 crore, which has been started by the Company and scheduled to be completed in stages in another 12-24 months.
It may be underlined that Supreme Court, about a year ago, asked NBCC to execute two stalled projects, to begin with namely; Eden Park in Noida and Castle in Greater Noida comprising 618 Houses, which NBCC has already completed and handed over as well.
Thus action has been initiated for construction of a total of 44500 houses (including 618 houses already completed) out of about 46500 houses in Amrapali Project providing huge relief to stressed Homebuyers.
While expeditiously acting upon the issue of resolving the homebuyers' crisis, the learned Court Receiver on behalf of Supreme Court, however, has also called upon the affected homebuyers to promptly deposit all their pending payments with the designated bank account provided by the SC for successful completion of the housing projects.