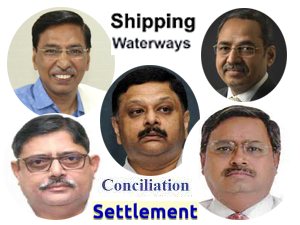 New Delhi (25.01.2022): The innovative Conciliation and Settlement Committee (CSC) set up by the Ministry of Port, Shipping, and Waterways is said to be proving effective in resolving contractual disputes among concessionaires, contractors, consultants, service providers, and major ports through mediation and mutual understanding

The CSC constituted in October 2021, is headed by former Shipping secretary Gopal Krishna and includes former Commerce Ministry's Special Secretary (Logistics) N Sivasailam, former DoPT secretary Dr. C Chandramouli, former special secretary and financial adviser of RT&H, Shipping and Power Shambhu Singh, and Infrastructure Finance Development Corporation senior director in charge of project finance A Balasubramanian.
The committee tasted its first success on December 27, 2021, when its mediation made Chennai Port Authority and Chettinad Logistics Pvt Ltd sign a settlement agreement to end a decade-old dispute over a contract awarded to Chettinad in 2008 for installing a semi-mechanized closed conveyor system for coal handling at Jawahar Dock and its operation and maintenance (O&M) for three years (though the last one was terminated prematurely after the Madras High Court ordered Chennai Port to stop handling dusty cargo such as coal and iron due to environmental concerns).
It is pointed out that the committee has a tough job ahead as there are more than 100 cases pending before the courts or arbitration panels on contractual disputes in major ports.
However, the silver lining is that the disputants are aware that the committee, which is composed of top retired officials, is a sensible forum to resolve their disputes because arbitration and court procedures aren't only lengthy but also expensive.
And the committee's success in resolving a decade-old dispute in less than six months is said to have sent out a very positive signal.
(By Rakesh Ranjan)