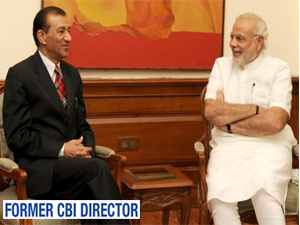 Former CBI Director Ashwani Kumar's (1973 Batch IPS) suicide at his Himachal residence has shocked a lot of people around the country.

Echoing their sentiments, Prof. Varun Arya, a distinguished educationist and Professor at Aravali Gurukul Ashram at Kaparda near Jodhpur in Rajasthan, has penned an interesting story of his association with the deceased.
He writes:
It was August 2009. Admissions to our Aravali Institute of Management had been closed on 06 July 2009. An officer of CBI Jodhpur approached us asking for the admission of his son. Since the admissions had been closed, we said NO. Thereafter, shockingly suddenly one day, 22 persons from CBI Jodhpur landed up at our Institute including SSP, DSP, two Inspectors and others. When I enquired what was the matter, I was sternly told that I was an accused and therefore, I could not ask any question, and only they would ask questions.
They asked me to get all the almirahs open. I told that in our Institute, all the almirahs were always open except during examinations one almirah, in which exam papers were kept, was locked till the exam was held. After some time, they asked for tea to be served. I told them to deposit money with our Accounts at the rate of Rs. 5 per person and get tea. At lunchtime, they asked for lunch to be served, for which I asked them to deposit Rs. 50 per person with our Accounts. Exasperated with this attitude of ours, they went away in the afternoon. However, I could clearly see it was a sinister attempt by them to frame me in a falsely fabricated case related to our AICTE approval, which we had got in July 2009 on merit alone after fighting for nine long years.
I contacted some of my close friends who were senior IPS officers. I was told that CBI behaved as if it was above law and it listened only to three persons - Prime Minister, Union Home Minister, and CBI Director. I telephoned CBI Director, Mr. Ashwani Kumar, he graciously came online and I told him the urgency to meet him. He gave the next day's time. I went to Delhi and met him in his North Block office. He attentively listened to me, saw various documents, and was convinced about our genuineness. He said that he would not be able to stop CBI Jodhpur's inquiry, told me that before any case was filed by CBI the file came to CBI Headquarters for approval and he assured me that the approval would not be given.
I got a summons from CBI Jodhpur to meet them in their office at 11.30 AM. As usual, I reached there at 11.25 AM. I was made to wait for one hour and they met me at 12.30 PM. I complained to CBI Director about it saying that if CBI Jodhpur wanted to meet me at 12.30 PM, they should have called me at 12.30 PM and not at 11.30 PM thereby wasting one hour of my time. SSP of CBI Jodhpur telephoned me as to why I had complained about this to their Director when they make people wait even for the whole day.
After that, I met Mr. Ashwani Kumar two more times, once again in his North Block office and once in CBI Headquarters, when the harassment by CBI Jodhpur increased. He kept his word and the approval was not given when the file went to CBI Headquarters. Consequently, the matter was closed, with the remark that nothing was found against us.
It is rare to find honest police officers like Mr. Ashwani Kumar, who is also approachable and works on merit. It is most unfortunate that he left for heavenly abode in this manner. May his noble soul rest in eternal peace.
Kumar headed the Himachal Pradesh Police as DGP between 2006 and 2008, he was found hanging in his room. Sources in the state police said he went for a walk Wednesday evening and appeared fine. Upon his return, he went to his room, where he was then found hanging.