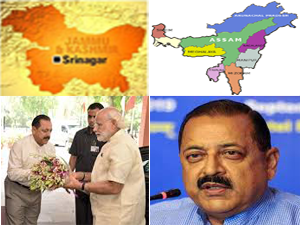 There are only a few ministers in the current regime who enjoy the indulgence of the PM. Considered a shadow of PM Modi and a sort of link between North-West (J&K) and North East, Dr Jitendra Singh is known to have worked consistently to earn the affection of the PM. His contributions reflect in the government policies on the Northeast and Northwest. Even though he deals with a number of portfolios that include the PMO, Personnel, and DONER, his work carries his signature of accomplishment. Naturally, this has put Dr. Singh's stars in ascendance in J&K and at Centre.

People in J&K attribute his rise to his political acumen and maturity. Of course, his successes have also triggered jealousies among his rivals in his home state.
In J&K, post 370 abrogations, while most of the political stalwarts and so-called 'nationalist' ( a misnomer for separatist leaders) were under house arrest followed by COVID lockdown, Dr Singh remained an effective communication channel and help for the people of the state.
There are several instances of Singh's yeoman service to the people of his state in these difficult times. But it is his humility that he credits officials for what he has been able to achieve for the troubled state. He has been extremely generous in appreciating the efforts of officers who helped him in resolving the problems of the people.
Senior J&K officials told Indianmandarins that his proactive efforts have bridged the difference between him and the J&K administration and both are indeed very close now.
Because of his rapport with officials and proactive approach, Dr. Singh has been able to set up 3 medical colleges and 12 new degree colleges for his constituency, the Kiru Power project, the Devika Project worth 190 Crs, the Delhi-Katra Expressway, the first major FDI in UT of J&K (India's first Cannabis Medicine Plant with Canadian collaboration at IIM Jammu), Keediyan Gandiyal Bridge (70 yrs old demand), bamboo promotion in Kathua, Hiranagar sports stadium, etc.
His administrative acumen is also highly appreciated in the central government. Officials point out that though personnel matters related to the UT cadre is solely MHA's call, yet during the UT Cadre review, Dr. Singh is always asked to co-chair the meeting along with the MoS Home G Kishan Reddy. Officials say that this couldn't have been possible without nods from the PM or from HM or both. In any administration, these things matter.
Not for nothing, he is entrusted with dealing with a host of sensitive issues. His oratorical skill, educational qualification, clean image, and persona shine his performance in Parliament, while his handling of the Northeast portfolio, with its emphasis on Act East, has earned him laurels. Over a period of time, he is seen as PM Modi's point man for acting as a bridge between North West and North East - a job he has been doing with distinction.
(By Rakesh Ranjan)