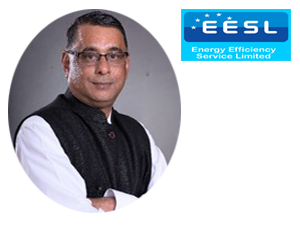 New Delhi (15.09.2021): The Executive Vice Chairman of the public-sector Energy Efficiency Services Ltd (EESL) Saurabh Kumar on Tuesday put in his papers citing personal reasons. Before Kumar was elevated to the Executive VC rank in April this year he worked as Managing Director of EESL.

During his tenure, EESL spearheaded the world's largest non-subsidized distribution programme of LED lamps under the 'Unnat Jyoti by Affordable LEDs and Appliances for All' (Ujala) scheme. It may be underlined that EESL brought down the price of LED lamps — from Rs 310 per piece to Rs 40 per piece through competitive bidding bulk purchase.
Reportedly, he has proceeded on leave till the period his relieving on September 30, 2021.
ALSO READ:
EESL: New MD soon, Vice-Chairman post being created for Kumar (20.08.2020)

Tenure of EESL MD Saurabh Kumar extended (09.05.2021)