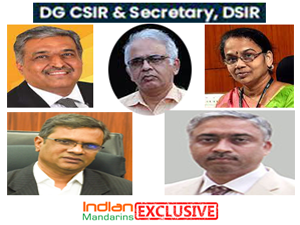 New Delhi (06.08.2022):
As Indianmandarins had reported first on
21.07.2022 (CLICK TO READ)
the Appointments Committee of the Cabinet headed by Prime Minister approved the appointment of
Dr (Ms) N Kalaiselvi
as
Director General, Council of Scientific & Industrial Research-cum-Secretary, Department of Scientific and Industrial Research
for a period of two years.
She replaces Dr Shekhar C Mande. Currently, Dr (Ms) Kalaiselvi is working as Director, CSIR-Central Electrochemical Research Institute (CSIRCECRI), Karaikudi.
It may be underlined that the coveted post of DG of CSIR and Secretary DSIR fell vacant on May 1, 2022, following the retirement of Dr Shekhar C Mande on April 30, 2022.
Presently Secretary of the Department of Biotechnology Rajesh S Gokhale is holding the additional charge of Director-General, CSIR, and Secretary DSIR.
(By Rakesh Ranjan)
ALSO READ: