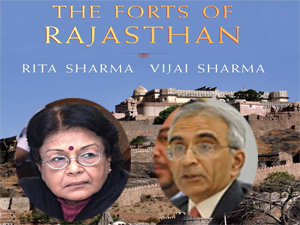 The wife and husband team of retired IAS officers Rita and Vijai Sharma has co-authored another interesting book titled The Forts of Rajasthan on the pattern of their previous work on the Forts of Bundelkhand.

The easy-to-read book, with a lot of illustrations and captivating photographs, takes the reader into the past and links him with the ethos, culture, and civilization of his ancestors.
Both Rita and Vijay retired as secretaries to the government of India. Rita Sharma (Retd IAS:1974:UP) was secretary to the National Advisory Council. Vijai Sharma (Retd IAS:1974:UP) was a Member of the National Green Tribunal and Chief Information Commissioner of India.
Their interest in writing history texts on forts was sparked by a 'museum launch' in 1986 of their first book - The Forts of India (1986).
The Forts of Rajasthan is published by Rupa and is available on Amazon.