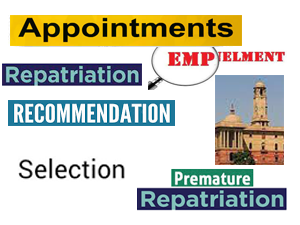 New Delhi (18.05.2023): Notifications of appointments and recommendations issued on Thursday are as follows:-

The tenure of additional charge of MD, National Horticulture Board (NHB) to Priya Ranjan (IFS:1998:RJ) was extended for a period of 03 months w.e.f. 23.03.2023 or till appointment of a regular incumbent to the post or until further orders, whichever is the earliest. Currently, he is working as Joint Secretary, Department of Agriculture & Farmers Welfare.

The central deputation tenure of Vikram Sahay (IRS IT:1992) was extended for a period of two years beyond 23.05.2023. Currently, he is Joint Secretary, Ministry of Information & Broadcasting.
Dinesh Singh (IOFS:1989) was appointed Development Commissioner (JS level), Kandla Special Economic Zone (KSEZ), Kandla, Gujarat under the Department of Commerce for a period upto the date of his superannuation on 31.12.2025. He replaces Upendra Vasisth (IOFS:1985).
The tenure of Ms. Sushma Taishete (CSS) was extended beyond 05.07.2023 till her superannuation i.e. upto 31.05.2024 by continuing the period of Down-gradation of a vacant post of Additional Secretary in the Department for a term upto 31.07.2024. Currently, she is Joint Secretary, Department of Atomic Energy.
Ambarish Barman (IDAS:2005), currently working as Director in the Ministry of Defence was prematurely repatriated to his parent cadre to avail the benefit of promotion.

Shashank Goel (IAS:1990:TG), Additional Secretary, Ministry of Labour and Employment, was prematurely repatriated to his parent cadre.

Following the appointment of Ms Suman Sharma (IRS IT:1990) as Member UPSC the Centre on Thursday notified her repatriation to parent cadre with immediate effect. She worked as MD, Solar Energy Corporation of India Ltd (SECI).
Cadre of Amritpal Kaur (IPS: 2021: WB) was changed on the grounds of her marriage with Amritpal Singh (IPS:2021: OD). She will move from West Bengal to Odisha.