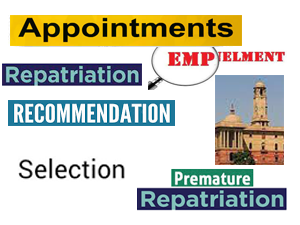 New Delhi (17.05.2023): Notifications of appointments and recommendations issued on Wednesday are as follows:-

Shirish Kumar Sinha was appointed as Additional Member (Planning), Railway Board, New Delhi.
Chetan Kumar Srivastava was appointed as General Manager, Northeast Frontier Railway, Guwahati.
Manish Kumar Vimal (ITS: 1998) was appointed as Director in the NITI Aayog, Delhi for a period of five years.
Sanjay Malhotra, (IAS:1990: RJ), Secretary, Department of Revenue, was entrusted with additional charge of Secretary, Department of Financial Services from 18.05.2023 to 28.05.2023.
Dr Debasis Dash, Scientist 'G'/Chief Scientist, CSIR- Institute of Genomics & Integrative Biology (IGIB), New Delhi was appointed to the post of Director, Institute of Life Sciences (ILS), Bhubaneswar.
Dr C S Narayanamurthy, Sr. Professor, Indian Institute of Space Science and Technology (IIST) was promoted to the grade of 'Outstanding Professor'.