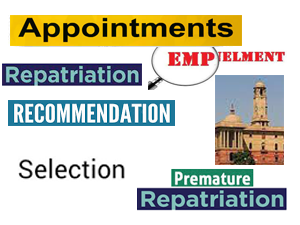 New Delhi (06.02.2023): Notifications of appointments and recommendations issued on Monday are as follows:
N Ramakrishna was empanelled for promotion to the Senior Administrative Grade (Senior Director) in the Indian Naval Material Management Service (INMMS) cadre for the panel year 2023.
Dr Bhola Ram Gurjar was appointed to the post of Director, National Institute of Technical Teachers' Training and Research (NITTTR), Chandigarh.
Deepak Mittal (IFS: 1998) was appointed as Joint Secretary in the PMO. He was appointed as OSD in PMO on November 24, 2022.
Mrs. Barnati Barua Tokhi was appointed to the post of Managing Director (MD), Bharat Petro Resources Limited (BPRL) till the date of her superannuation i.e. 31.08.2025. Currently, she is working as President (Technical), Bharat Petro Resources Limited (BPRL).
Pankaj Upadhyay (IDAS:2010) was appointed as Deputy Secretary in the Department of Bio-Technology for a period of four years.
16 officers belonging to Standardisation Testing and Quality Certification (STQC) Cadre were in-situ promoted from the grade of Scientist 'F' to the grade of Scientist 'G' (Level 14 of the Pay Matrix). STQC Directorate is an attached office of the Ministry of Electronics and Information Technology.
Anish Kumar Upadhyay (IRS C&CE:2012), currently working as Deputy Financial Advisor in BSF was prematurely repatriated to his parent cadre on administrative grounds with the imposition of the condition of "Extended Cooling Off".