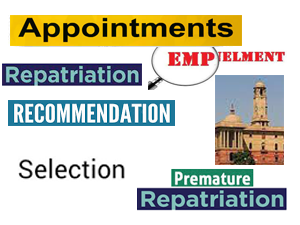 New Delhi (24.06.2022): Notifications of appointments and recommendations issued on Friday are as follows:

Parameswaran Iyer (Retd lAS:1981:UP) was appointed as the new Chief Executive Officer, Niti Aayog for a period ending June 30, 2024. He replaces Amitabh Kant upon completion of his tenure on 30.06.2022.
Tapan Kumar Deka (IPS:1988:HP) was appointed as Director, Intelligence Bureau for a tenure of two years. He replaces Arvinda Kumar (IPS:1984:AM) who is retiring at this month-end.
Samant Kumar Goel (IPS:1984:PB), Secretary, Research & Analysis Wing (RAW), was given an extension for a period of one year ending 30.06.2023.
The PESB selected Manish Billore for the post of Director (Marketing), Rashtriya Chemicals & Fertilizers Ltd. He is Additional General Manager - Fertilizer Marketing, Gujarat Narmada Valley Fertilizers & Chemicals Limited

Jayanti Prasad (Retd IA&AS:1986) was appointed as Whole Time Member, Insolvency and Bankruptcy Board of India (IBBI). He is a former Deputy Comptroller and Auditor General (Human Resources and International Relations), Comptroller & Auditor General of India.
Himansu Sekhar Khatua was appointed to the post of Director, Satyajit Ray Film and Television Institute (SRFTI), Kolkata, on a contract basis.