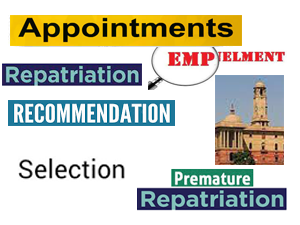 New Delhi (19.01.2022): Notifications issued by the Department of Personnel & Training (DoPT) on Wednesday are as follows:-
Vinay Kaushal, (IRS:IT:2011) was appointed as Private Secretary to the Minister for Information & Broadcasting and Youth Affairs & Sports (Anurag Thakur) in the Ministry of Information & Broadcasting for a period of five years.

P Aravindhan, (IPS:2010:TN) was appointed as Assistant Director (SP level) in National Crime Records Bureau (NCRB) for a period of four years.
The post of Deputy Secretary NHA, presently held by Kiran Gopal Vaska (IAS:2008:MP), was re-designated as Director for a period up to 11.11.2026 i.e. total five years tenure. Vaska counts his central deputation tenure w.e.f. 12.11.2021.