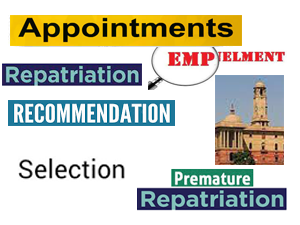 New Delhi (10.09.2022): Notifications of appointments and recommendations issued on Saturday are as follows:
Hirdesh Kumar (IAS:1999:AGMUT) was appointed as Deputy Election Commissioner in the Election Commission of India for a tenure of five years. He replaces Umesh Sinha (IAS:1986:UP).

Ms. Mehta Sampada Suresh (IAS:2008:MH) was appointed as Private Secretary to The President of India (Smt. Droupadi Murmu) for a period upto 30.03.2027.

Prof Krishanu Ray (Professor- TIFR, Mumbai) was appointed to the post of Director, National Brain Research Centre (NBRC), Manesar, Haryana.
P K Kesavan (IFS:1986:KL) was appointed to the post of Administrative Member in Kerala Administrative Tribunal (KAT).