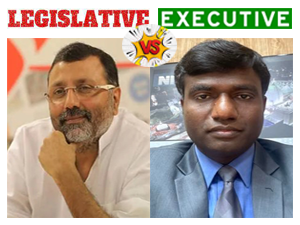 New Delhi (10.09.2022): A war of words and FIRs between Deoghar Deputy Commissioner Manjunath Bhajantri (IAS:2011:JH) and Member of Parliament Nishikant Dubey has been on since August 31.

It appears to be a simple tussle between an upright IAS officer Manjunath and Godda Lok Sabha MP Nishikant Dubey, who is always in the news for some reason or the other. Locking horns in public, both have filed FIRs against each other.
WHAT IS THE ISSUE?
A row erupted between the two after an FIR was registered against Dubey and nine others, including MP Manoj Tiwari for barging into Deoghar's air traffic control room for allegedly forcing officials to clear their chartered flight on August 31.
After Manjunath had filed the FIR for trespassing, a miffed Dubey registered a Zero FIR against the Jharkhand IAS officer with charges of sedition and other sections at the North Avenue Police Station, in Delhi.
Justifying his FIRs Manjunath claims in a series of tweets that every FIR that is filed against Dubey, Tiwari and Dubey's sons have substance. He also claims that the MP has every right to get them quashed from the court for which Dubey already approached the court.
Meanwhile, Dubey accuses Manjunath of working on vendetta as around 37 FIRs are filed against him in Deoghar only while two other districts that fall under his constituency don't have a single FIR against him.
OLD CONFLICT BREWING BETWEEN THE OFFICER AND THE POLITICIAN
The conflict between Manjunath and Dubey appears to have been sparked during a by-election to the Madhupur assembly constituency of Deoghar district in April 2021. On Dubey's complaint, the EC wrote to Jharkhand Chief Secretary to take action and penalize Manjunath. Even the government appeal to EC was rejected. Dubey called him an 'Agent of JMM'. Such actions further deteriorated their relations.
The state government is yet to take action against Bhajantri, who continues to be the deputy commissioner of Deoghar.
However, it is worth mentioning here that bureaucrats are susceptible to taking one side or the other, making things even more obvious. So there is a credibility crisis for bureaucrats if politicians have already lost it completely.
SOREN'S BLUE-EYED OFFICER?
While investigations into these cases may see their twists and turns, what is perhaps most striking is Manjunath openly questioning MPs from India's ruling party on social media.
Many people see this 'war of words' is being seen as a Nishikant Dubey vs Hemant Soren war as Manjunath is considered one of the favourite bureaucrats of the Soren government.
At a time when most bureaucrats bend backwards to please their masters, Manjunath's bold tweets are both refreshing and welcoming.
LET THEIR ACHIEVEMENTS DO THE TALKING!
Maybe we can attribute this candid and frank nature of Manjunath to his modest background and his self-made career.
A BTech graduate from IIT-Bombay and a 2011-batch IAS officer from the Jharkhand cadre, Manjunath is an admirer of Prime Minister Narendra Modi. He is known for his zest and for walking the extra mile while running the administrative job.
While Nishikant Dubey is an MBA, from DU and this is his third stint as a Member of Parliament. Dubey previously worked as a director of Essar and joined politics through the route of the ABVP. In just 8 years of his tenure, he is credited to have given a lot to his constituency Godda which is one of the most backward districts in the country. As an MP, Dubey brought in a wide range of infrastructural changes here.