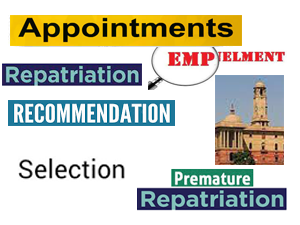 New Delhi (08.09.2022): Notifications of appointments and recommendations issued on Thursday are as follows:

Justice Munishwar Nath Bhandari, Chief Justice of Madras High Court, was appointed as Chairman, Appellate Tribunal under the Smugglers and Foreign Exchange Manipulators Act (SAFEMA) for a period of four years or till attaining the age of seventy years, whichever earliest.
PESB selected A Madhavarao (ED, BDL) for the post of Director (Technical), Bharat Dynamics Limited (BDL).
Rahul Prakash (IPS:2006:RJ) was debarred from the Central deputation for a period of five years (w.e.f. 20.06.2022) for failing to join as DIG, CRPF on a deputation basis. He was also debarred from being considered for foreign assignments/consultancies abroad during the period of debarment.
The additional charge of the post of CVO, Engineers India Ltd. (EIL) was assigned to Sandeep Sarkar (IDAS:1995) during the absence of Ms Shubha Naresh Bhambhani (ITS:1987), CVO, EIL on account of ex-India leave for a period of 41 days w.e.f 24.08.2022 to 04.10.2022. Presently, Sandeep Sarkar is working as a regular CVO, Gas Authority of India Ltd. (GAIL).
The deputation tenure of Vinod D Godghate (ITS:1995), CVO, Minerals Exploration Corporation Limited (MECL), Nagpur, was extended for a period of one year beyond 02.09.2022 i.e. upto 02.09.2023.
The deputation tenure of Sumeet Kumar Sinha (IRSS:1999), CVO, Central Mine Planning & Design Institute Ltd. (CMPDIL), Ranchi, was extended for a period of two years beyond 12.12.2022 i.e. upto 12.12.2024.
Neeta Bhushan (IFS: 1994), presently Additional Secretary in the Ministry of External Affairs, has been appointed as the next High Commissioner of India to New Zealand. She is expected to take up the assignment soon.