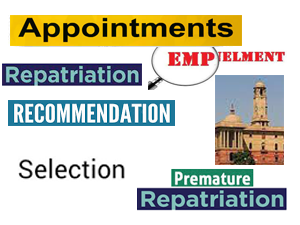 New Delhi (05.09.2022): Notifications of appointments and recommendations issued on Monday are as follows:
The additional charge of the post of CVO, Prasar Bharti (Delhi) assigned to Sharad Chandra Mishra (DDG, Engineering, I&B) was extended for a period of three months beyond 16.06.2022 i.e. upto 16.09.2022 or till the appointment of a regular CVO or until further orders, whichever is the earliest.
Amit Nigam (IPS:2015:NL) was appointed as Superintendent of Police in the National Investigating Agency (SP, NIA) for a period of five years.