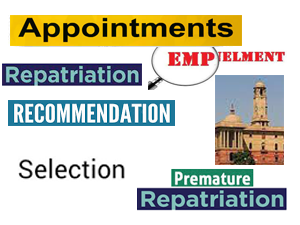 New Delhi (02.08.2022): Notifications of appointments and recommendations issued on Tuesday are as follows:

The appointment order (dated 18.07.2022) of Aniket Govind Mandavgane (lFS:2009) as Deputy Secretary in the Prime Minister's Office was canceled.

Ms. Shweta Singh (IFS:2008) was appointed as Director in the Prime Minister's Office for a period of three years.
S Arul Kumar (IPS:2008:HP) was appointed as Deputy Inspector General in Central Reserve Police Force (CRPF) for a period of five years.