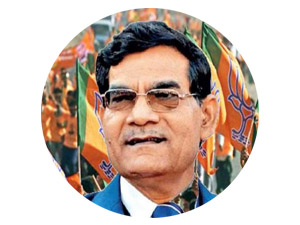 14.01.2021: Former Union MSME Secretary and PM Narendra Modi's confidante Arvind Kumar Sharma (Retd IAS:1988:GJ) finally took a plunge into politics. He joined BJP in Lucknow today in the presence of UP BJP president Swatantra Dav Singh and deputy CM Dinesh Sharma at a time when was finalizing names of candidates for the biennial election to twelve seats in the Uttar Pradesh Legislative Council.

He took voluntary retirement from service this week; over one and a half years ahead of his scheduled retirement i.e. July 2022.
"I come from a backward village of Mau district in Uttar Pradesh. I was working on the post of secretary and don't have any political background. To bring a person like me into the party, only PM Narendra Modi and BJP can do it," Sharma told while addressing media persons in Lucknow.