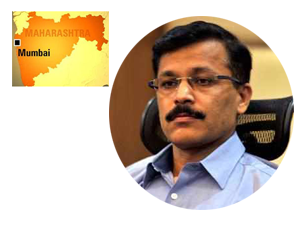 New Delhi (15.01.2021): The exile period of the 2005 batch Maharashtra cadre IAS officer, Tukaram Mundhe, is over for the time being with his appointment as secretary to the Maharashtra Human Rights Commission.

It is learned that the MVA administration found it too embarrassing to keep the irrepressible officer with a no-nonsense attitude on compulsory wait after transferring him from the post of Nagpur Municipal Commissioner on August 26, 2020.
Looked up and admired by his younger colleagues for the rule-based work ethics that pitches him against power brokers all the time, Mundhe has been the winner of several Maharashtra government awards like being the best Collector, the waterman of Maharashtra, etc. Wherever he has been posted, he has been able to bring about perceptible material changes in the life of ordinary, poor, and deprived people.
Transferred 17 times in his 15-year illustrious career, Mundhe has gone through umpteen motions. threatened as well as real, of no-confidence passed against him in several municipalities where he worked and brought about visible improvements.
For instance, before his transfer from Nagpur Municipal Corporation (NMC) where he functioned as Municipal Commissioner, both the ruling BJP and opposition Congress corporators joined hands to scuttle his plans to contain the corona epidemic and threatened to pass a no-confidence motion against him for having booked a Congress corporator for defying the containment orders.
That the MVA thought of him as too hot to handle became apparent when, after transferring him from the NMC, it appointed him as a member-secretary in Maharashtra Jeevan Pradhikaran in September and canceled the appointment within days, keeping him on compulsory wait.
Along with Mundhe, the 1985 batch officer, Arvind Kumar, who was shunted out for posting amusing messages about his senior colleagues in the state IAS WhatsApp group, has been brought back as additional chief secretary in charge of the cooperation, marketing, and textile department.
(By M K Shukla & Rakesh Ranjan)