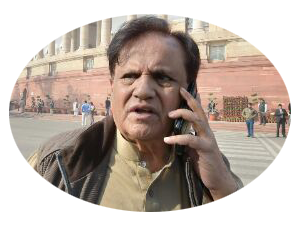 Man has for long been called a social animal so as to bring, add, and append values of human civilization to him. Yet, the veteran Congress leader Ahmed Patel was so overtly political that it is difficult to keep him confined in the social or the socialites' realm alone.

Thus, ever since he breathed his last in the wee hours of Wednesday, or November 25, morning after over four decades of being in active power politics, a deep sense of loss has come to loom over the excessively snobbish political sphere of the country.
The reason for this is simple. And it is because Ahmed Patel had literally become a powerhouse of sorts through his long innings in public life and yet he was so self-effacing. He never betrayed any signs of being endowed with so much consequence; and this is how he is going to remain an enigma in India's recent political history.
Starting from rather modest moorings of being a village Panchayat head in Bharauch district of Gujarat he rose to the ultimate heights in New Delhi's power circuit, but he never left the values imbibed through his initial tryst with village affairs at his rather humble homestead.
His long role as a point-man of Congress chief Sonia Gandhi made him the most sought after person in the eyes of Delhi's gaggling Press corps. Not always at the best of terms with the Congress, the Press often exhorted Congress with its pontifications for the party rather than taking the party's views as such. Unmindful of blemishes of unduly fawning over the ruling BJP, the media had consistently been asking Congress to 'introspect' about its flagging stock in the country's and its States power politics.
Often the Presspersons crowded around Patel, calling him Ahmed Bhai, in order to cajole the master strategist to say something or the other and thereby give a clue to what could be going on in his or Sonia's mind about their next move.
Ahmed knew too well as to how to skirt out the demands of the journos as he believed in doing what could be the best for the party rather than saying it beforehand. Apart from being the virtual eyes and ears of his mentor Sonia Gandhi Ahmed Patel was also thought by quite a few of his Congress peers to be the actual brain behind her moves.
Thus, the calls for introspection by Congress were always meant to be addressed either to Sonia or to him. Though Ahmed invariably remained unfazed by such chastisements both him and his leader, Sonia Gandhi, were often proved to be capable of sending their adversaries and rivals into the much-touted self-introspection.
The latest example of this came from Sonia's 10-Janpath abode amid the recent barefoot exodus of migrant labour from big metropolises to their far off homes.
Congress via Sonia offered through the party coffers to pay the fare of lakhs of homebound labour who were forced to trudge along cold highways on foot, carrying loads of their belonging to escape the stringent Corona lockdown. The Congress move sent the BJP and NDA governments both at the Centre and in States like Uttar Pradesh and Bihar in a tizzy; and the powers-that-be did not know how to respond to the Congress move and ended up haggling with the grand old party for quite a few days.
To cut the long story short it was Ahmed Patel who always kept a low profile to duck the high tide of adversities and criticism that came the Congress' way ever since its loss of power in 2014. Though famous for his unwavering cool Ahmed was never oblivious of the heat that politics invariably keeps turned on at its practitioners.
His moves were mostly marked with a kind of realism that other politicos may well miss to keep up their vanity, indulgence, and flamboyance.
(By Abid Shah)