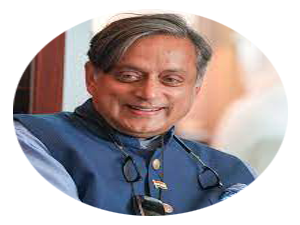 New Delhi (26.01.2022): Congress leader Shashi Tharoor is apparently soft but subtly critical about RPN Singh's joining the saffron party. He said that BJP is now composed of several Congress leaders. He used a phrase -- Congress yukt BJP (Congress laden BJP) to argue his point softly.

Tharoor on Wednesday posted a quatrain from his official Twitter handle. He suggested that the BJP now looks familiar as many members have switched over from Congress. "Chhod kar ja rahe ghar apna…shayad unke kuch aur sapne hain…ab udhar bhi sab apna saa hai…ab udhar bhee to sab apne hain.
"Everyone is leaving home, Maybe they have some other dreams, Now the other side seems familiar, Now that they are our own " Tharoor tweeted in Hindi making his subtly critical remark about the BJP.