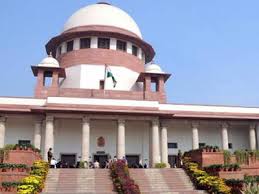 New Delhi (19.08.2021): Will Bharat make history by choosing to make the first woman CJI? With its eyes firmly focused on sending out a resounding message of its commitment to women empowerment, the NaMo administration may just do it. What reinforces this line of logic is the fact that the NaMo administration has been the first-ever in appointing a woman Finance Minister.

It is pointed out that the administration job has been made easier by the fact that the Supreme Court Collegium led by CJI N V Ramana has recommended nine names for the appointment of Supreme Court judges to the government. This includes the names of three women judges, and one of them is Karnataka High Court judge B.V. Nagarathna who figures in the list of seniority along with Gujarat Chief Justice Vikram Nath and senior advocate P S Narasimha.
Nagarathna, by the way, is the daughter of E.S. Venkataramiah, who was the 19th Chief Justice of India (19 June 1989-17 December 1989).
The list of recommended names includes Karnataka High Court (HC) Chief Justice A.S. Oka; Gujarat Chief Justice Vikram Nath; Sikkim Chief Justice J.K. Maheshwari; Telangana Chief Justice Hima Kohli; Justice Nagarathna; Kerala High Court judge Justice C.T. Ravikumar; Madras High Court judge Justice M.M. Sundresh; Gujarat High Court judge Justice Bela M. Trivedi; and senior advocate P.S. Narasimha, who has served as additional solicitor general, from the Supreme Court Bar.
It is pointed out that for the first time ever, the Collegium at one shot has recommended three women judges for appointment to the SC.
Currently, the SC has 10 vacancies as no appointments were done since September 2019 since the last batch of appointments was done in September 2019 which saw the induction of Justices Krishna Murari, S. Ravindra Bhat, V. Ramasubramanian, and Hrishikesh Roy. The oldest vacancy is that of Justice Ranjan Gogoi, who retired in November 2019.
The members of Collegium were Justices U.U. Lalit, A.M. Khanwilkar, D.Y. Chandrachud, and L. Nageswara Rao and it had met on August 17 to select the names.of eligible candidates